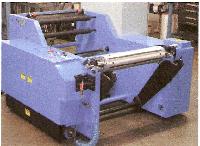 Rewinds & Unwinds
The Fordyce Rewinder is built to suit your width needs, with speeds up to 1200 fpm. The rewinder is a portable, fully self contained unit. Just roll it into place plug it in and turn it on. The unit takes up very little space, and has convenient operator controls. It also comes standard with light weight rewind shafts. The Fordyce Rewinder comes standard with automatic tension control; AC Vector Drive and a maintenance free Vector Duty Motor.
Learn More
Other Products and Services
We offer a complete state of the art Machine Shop with CNC Lathes; Mills and Machining Centers for any of your project needs.
Learn More