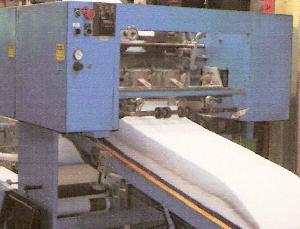 Variable Sized Press Folders
Today's market demands fan-folded products such as forms, direct mail, checks, documents and other paper products be of the highest quality, efficiently produced at a low cost. These three ingredients enhance your opportunity for maintaining customer's repeat orders, expanding your market share, and realizing healthy profits.

We believe our experience in the development and manufacture of variable size folders gives you, our customer the competitive edge. Our flexible designs; low maintenance; reliability; and relatively low cost helps our customers achieve this competitive edge. There may be some area of fan-folded production in you operations that could be upgraded.

We believe when you balance the cost of a new Fordyce Folder with the increased production and the decreased down time, you will see a very quick return on your investment.
General Specifications:

Press Widths: From 18" to 40" wide
Single Streams up to 40" wide
Multiple Streams

Web Widths: Up to 40"
Fold Lengths: 5 1/2" to 14"
7" to 22"
3" to 14" (Special Requirements)
Maximum Speeds: Up to 1800 fpm.
Models: Press Mounted, Lateral Move-Away, Roll-Away and Servo Driven
Variable Sized Narrow Stream Ticket & Label Folders
Because of greater competition in fan folded labels and tickets, increased sales can only be realized through lower operating costs. We can assure you the highest operating speeds with the Fordyce Label Folders, regardless of material being used. With most materials you will be able to operate your press at it's maximum speed. Our folders speed; ease in set-up; and reliability will assure you to be at the top of the competition. A quick return on your investment will also be realized.

Our folders have been manufactured for but are not limited to:
Aquaflex; Comco; Kluge; Mark Andy; Pace Eng.; Profiteer; Roto; Webtron


General Specifications:

Press Widths: 6 1/2" to 20 1/2"
Web Widths: 3 1/2" to 20 1/2"
Multiple Streams
Fold Range: 6" to 14"
6" to 17"
7" to 22"
Speed Range: Up to 800 fpm.
Models: Roll-Away, Servo Driven
Optional: Kits to fold 3" to 6"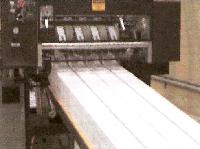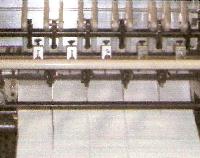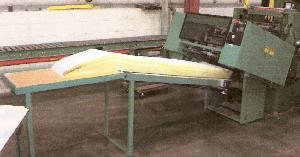 Collator Folders
A concern of any plant manager is the reduction of quality and production caused by machines or machine parts which may be warn or broken, thus resulting in a dramatic increase in production costs.

The Fordyce Collator Folder, Model VSL-17C, provides both the highest product quality and maximum speed. Once again the Fordyce VSL-17C guarantees excellence in quality, reliability, maintenance and a superior support team to assist you.

Months of testing the VSL-17C Collator Folder has shown a production speed of up to 900 fpm, without a single shutdown caused by malfunction or part replacement. The collator folder has been tested both in our plant and in the field, with excellent reviews.

** Also available in a Model VS-20-C Collator Folder with a 14" Maximum Fold Length **

Listed below are some of the distinct advantages of the VSL-17C Collator Folder:

- Width: 20"
- Speeds: Up to 900 fpm
- Fold Sizes: 5 1/2" to 17"
- Mounting: No alteration required to the Hamilton Collator finishing section, only removal of the existing folder. All parts for mounting furnished by G. Fordyce Company.
- Fold Size & Width Change Time: 10 Minutes Maximum
- All adjustments on fold length changes are done from the operator side